Best Interactive French Bulldog Toys
Plus expert tips on how to choose the best toys for your French Bulldog's personality, and energy level.
Having a dog is undeniably one of the best joys of life (you know, aside from the fact that you're constantly on the hunt for the best carpet cleaner for pets.) Dogs can quickly become part of the family and for most, even become the BFF you've always wanted. Though playtime with your pup is probably the best part of both your day and theirs, during the times when you're super busy and need to keep them busy too, having a few of the best interactive Frenchie toys handy can keep them from making mischief around the house in an effort get your attention.
"Toys can help prevent boredom and your pup from messing up your home if they aren't crate trained," says Don Chino, Harvard animal behavior specialist and former veterinary technician. As a lover of all breeds, the pet enthusiast also noted that combatting boredom isn't the only thing you need to focus on when shopping for your pooch — knowing them well is important, too. "If you have a large or extra large breed that may be an active chewer, be aware that smaller interactive toys could be swallowed by accident."
The best interactive French Bulldog toys to buy in 2023
Best Intermediate Puzzle ToyOutward Hound Nina Ottosson Dog Hide N' Slide Interactive Treat Puzzle $9 AT AMAZONRead
SHOP French Bulldog Inspired Products
SHOP French Bulldog Inspired Products
SHOW MORE
Through recommendations and reviews, we've compiled a list of interactive Frenchie toys perfect for any Frenchie — also, for small dog breeds like teddy bear dogs to large dog breeds like wolfish dogs — and energy level on this list. Who knows, it may even encourage you to start shopping for new outdoor dog toys, too.
SHOP French Bulldog Inspired Products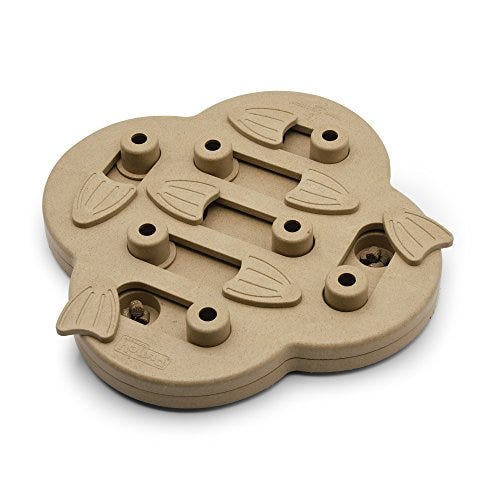 Best Intermediate Puzzle Toy
Outward Hound Nina Ottosson Dog Hide N' Slide Interactive Treat Puzzle
Now 13% Off
$9 AT AMAZON$13 AT WALMART$13 AT PETCO Credit: Outward Hound
This interactive treat puzzle game will challenge your pup's brain, reduce boredom, and help prevent destructive behavior. You can hide treats under the flippers or put them in the blocks through the opening on top for an additional challenge. It's great for all breeds and sizes who've already figured out beginner puzzle toys.
RELATED: 25 Unique Dog Mom Gift Ideas for Your Favorite Pup Parent
SHOP French Bulldog Inspired Products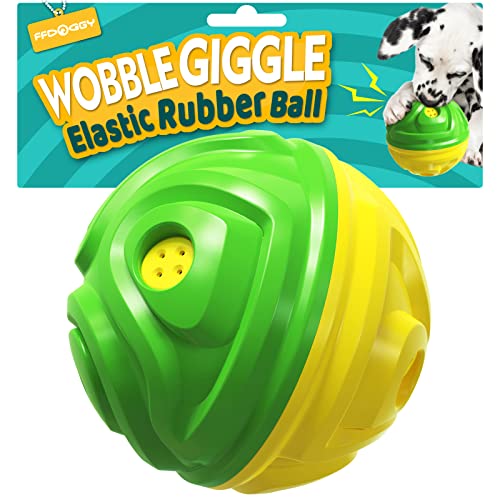 Best Nosework Toy for Small and Medium Dogs
Interactive Squeaky Giggle Ball
$21 AT AMAZON Credit: FFDOGGY
Available in a variety of colors, this wobbling, giggling ball only takes a nudge of your small to medium-sized pup's nose to be activated. (There's also a version made for large dogs only.) Damage resistant and safe for habitual chewing, your dog will be rewarded with different types of laughter depending on the ball's rolling angles. As one reviewer noted, it'll definitely keep your pooch "happy and occupied."
SHOP French Bulldog Inspired Products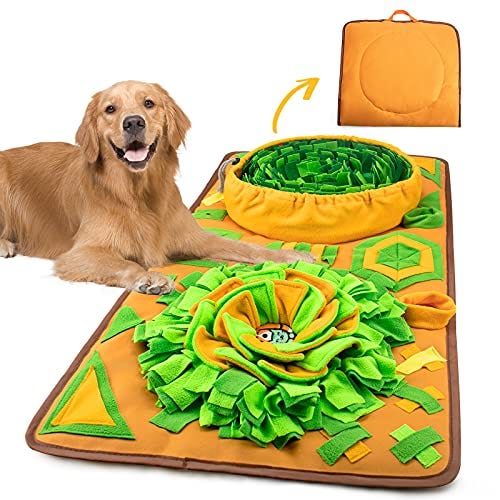 Best Feeding Mat
Snuffle Mat Dog Feeding Mat
$40 AT AMAZON Credit: AWOOF
Great for nose training and slowing down how quickly your pup eats, this feeding mat which encourages them to sniff out hidden treats is large, durable, and non-slip. "This is one of my favorite mats," said Coffiel. "It will keep your fur babies entertained and comfy when they're home alone."
SHOP French Bulldog Inspired Products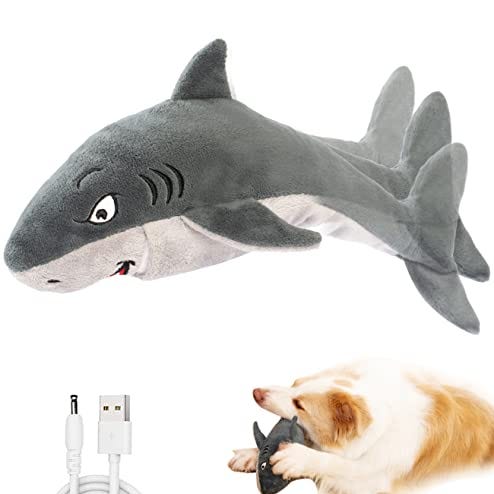 Best Squeaky Plush Toy
Interactive Floppy Fish
$15 AT AMAZON$23 AT WALMART Credit: IOEN
Made of natural cotton, this tail-waving shark toy is also great for teeth cleaning. Though safe and durable, if your pup happens to be an aggressive chewer, this is not made for them. For every other furry friend, it may just be a new favorite. "Sammi has only had this for a short while but he is obsessed with it — when I took it away to try to find the sound bladder he freaked out," wrote one reviewer. "Hasn't touched another toy since getting this."
SHOP French Bulldog Inspired Products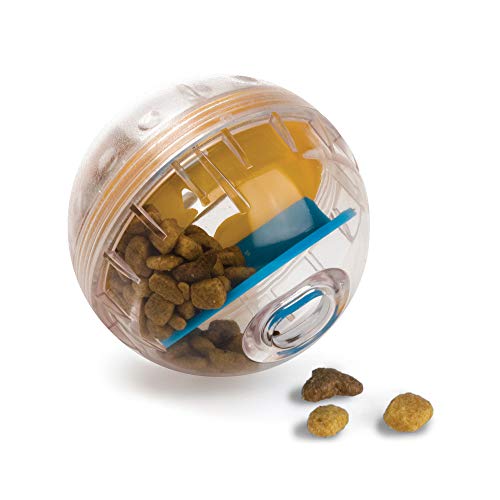 Best Budget-Friendly Treat Dispenser
Adjustable Treat Dispensing Ball
Now 33% Off
$10 AT AMAZON$18 AT WALMART Credit: Pet Zone
The ability to adjust the difficulty on this easy-to-clean treat ball when your dog figures out how to roll it in order to get the treats out makes it both mentally and physically stimulating. According to Coffiel, it's "one of the best budget-friendly options around!"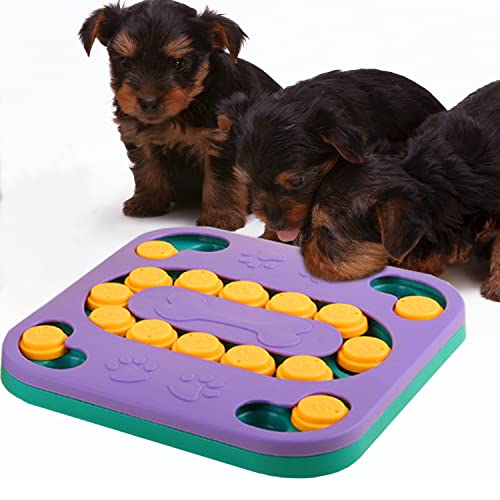 Best Dog Food Puzzle
Dog Food Puzzle
Now 10% Off
$9 AT AMAZON Credit: Absob
Hide and seek is even better when it means uncovering a treat. This sliding puzzle will help slow down feeding while entertaining, plus "it's mentally stimulating, too," adds Coffiel.
SHOP French Bulldog Inspired Products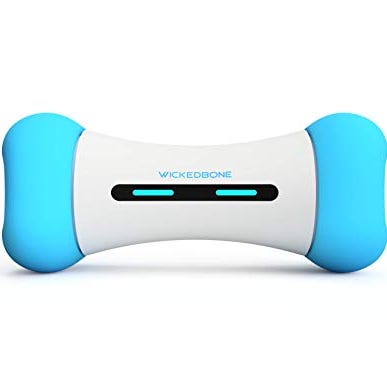 Best Smart Bone
Wickedbone Smart Bone
$60 AT AMAZON$86 AT WALMART Credit: Wickedbone
Your smart little boy or girl will love playing with this interactive smart bone toy with or without you. Need to keep your pup busy while you're doing work? Set it to automatic. Ready to spend some quality time with your fur baby? Use the app to control it like an automatic car. With sound and a long battery life, it'll to keep any size breed busy for as long as you need. "The toy is fantastic for keeping your dog's attention and keeping focused on engaging play," one reviewer wrote. "I prefer to use the manual mode and make the bone jump, twist, run across the floor etc. with me controlling it watching how my dog reacts. She loves this toy. In fact, I purchased a second one as a back-up because this is one of her favorite toys."
SHOP French Bulldog Inspired Products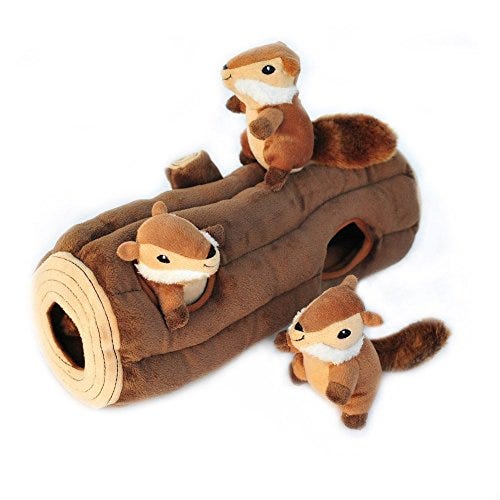 Best Hide and Seek Toy
ZippyPaws Hide and Seek Chipmunk Log Toy
$19 AT AMAZON Credit: ZippyPaws
If your furry friend loves chasing squirrels, chipmunks, rabbits… pretty much anything with a tail, they'll adore this hide-and-seek toy. Both sturdy and durable — though not recommended for aggressive chewers — they'll finally get to "catch" their wild friends when they dig them out of the log.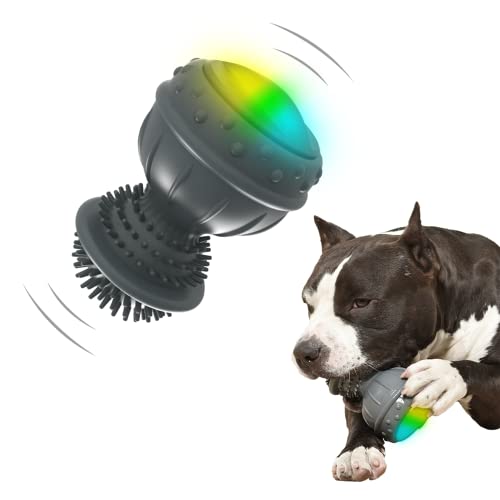 Best Heavy Duty Chew Toy
Auto Moving Rubber Chew Toy
Now 23% Off
$30 AT AMAZON Credit: LIDLOK
Looking for a heavy-duty dog toy for your pup? This is the one you should run to pick up immediately. It has two modes — shaking with vibration mode and bouncing with rolling mode — and as many reviewers noted, dogs can't get enough of it.
SHOP French Bulldog Inspired Products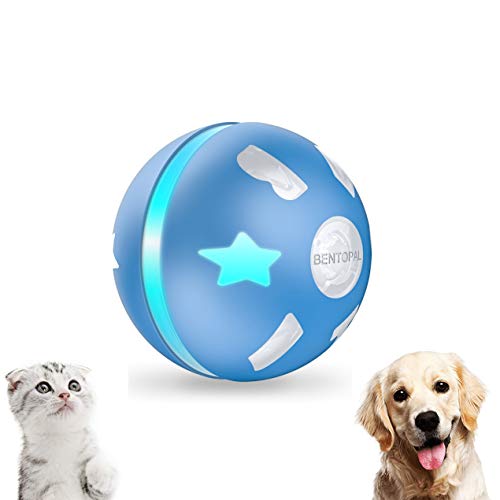 Best Multi-Functional Toy
Automatic Rolling Ball Toy
Now 50% Off
$25 AT AMAZON Credit: PetDroid
It's no secret that dogs love to play with moving items and with this automatic rolling ball toy, they'll be able to do it all day long. Bonus: The rolling with bouncing mode and the active bouncing ball mode will attract them, too.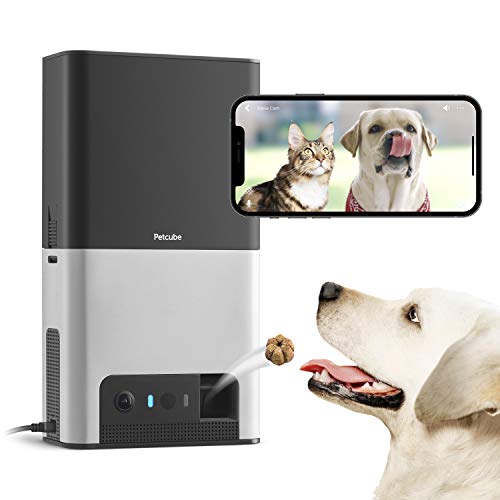 Best Wi-Fi Enabled
Wi-Fi Pet Camera with Treat Dispenser
$249 AT AMAZON$249 AT WALMART$249 AT SAKS FIFTH AVENUE Credit: Petcube
If you're one of the many people who love to look at their pup all day long, this wifi pet camera that doubles as a treat dispenser will be a treat for both of you. You'll be able to toss their treat in a short, medium, or long distance automatically all while telling them how much you love them through the screen. And, as reviewers have noted, setup is as easy as can be.
SHOP French Bulldog Inspired Products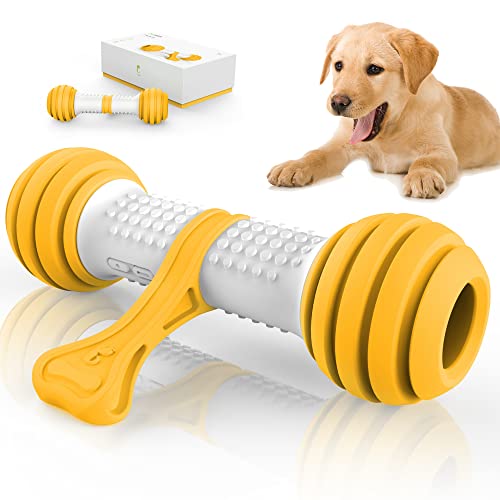 Best Bone Toy for Non-Aggressive Chewers
Automatic Moving Dog Toy
$38 AT AMAZON Credit: Petgeek
Perfect for medium to large dogs who aren't aggressive chewers, this is one toy that will grab their attention at first glance. "My puppy remains engaged playing with the bone, it's rechargeable, and the customer support stands by its product," one reviewer wrote.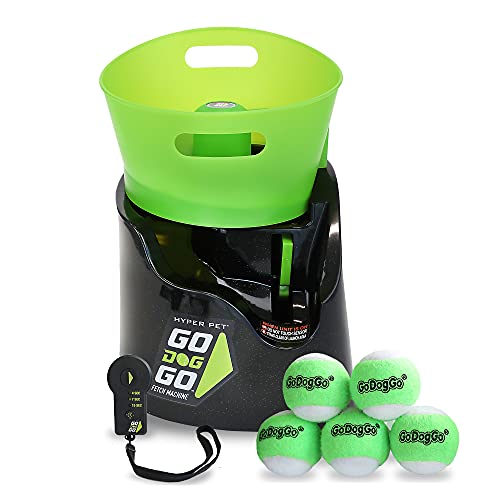 Best Fetch Machine for Outdoor Use
Automatic Fetch Machine and Dog Ball Launcher
$160 AT AMAZON Credit: GoDogGo
Have a dog that loves to play fetch? This automatic dog ball launcher is perfect for them. It comes with five balls that your dog can easily return to a wide-mouth ergo bucket, a remote control, and rechargeable batteries for loads of fun. The ball launches at high speeds, however, so you'll want to use this outside.
SHOP French Bulldog Inspired Products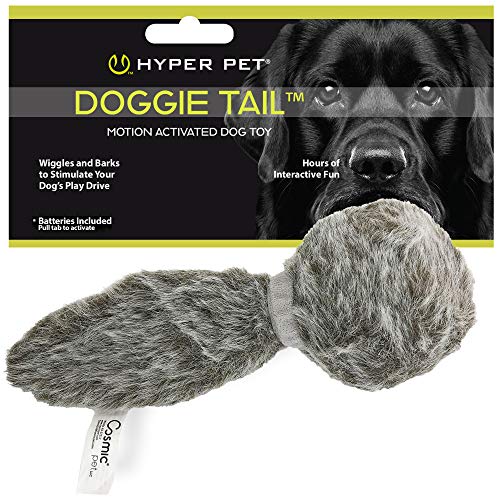 Best Interactive Plush Toy
Hyper Pet Interactive Doggie Tail
Now 57% Off
$12 AT AMAZON$30 AT WALMART Credit: Hyper Pet
Every dog loves a squeaky toy and with more than 25,000 ratings on Amazon, this one that does that plus more is a definite add-to-cart. It wiggles, vibrates, and barks and is an ideal toy to increase exercise for small, medium, and large dogs of all ages. "It's the perfect toy for your dog," began one review. "It is not an annoying product. It only vibrates on and off when your dog plays with it and it's not too sensitive so you don't have to worry about over-exhausting your dog. The battery case needs a screw which it didn't come with, so when the toy falls the batteries get loose. overall, great product."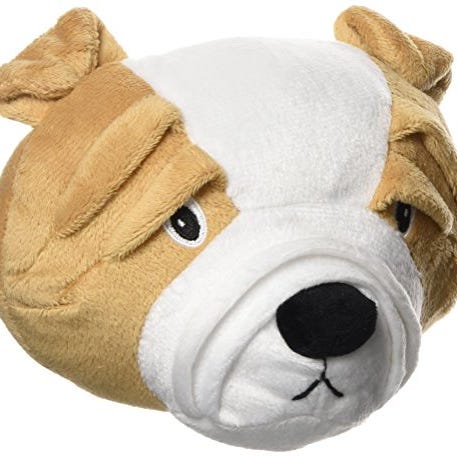 Best Toy for Larger Breeds
Zeus the Bulldog Interactive Toy
$17 AT AMAZON$32 AT WALMART Credit: ZEUS
This plush playmate will keep your dog on its toes as it barks, shakes, and rolls in an unpredictable pattern. It works on many surface types including carpet, grass, and gravel so is great for keeping them busy at home or the park. One caveat: "If your dog likes to chew toys more than play then the plush covering may take a beating," wrote a reviewer.
SHOP French Bulldog Inspired Products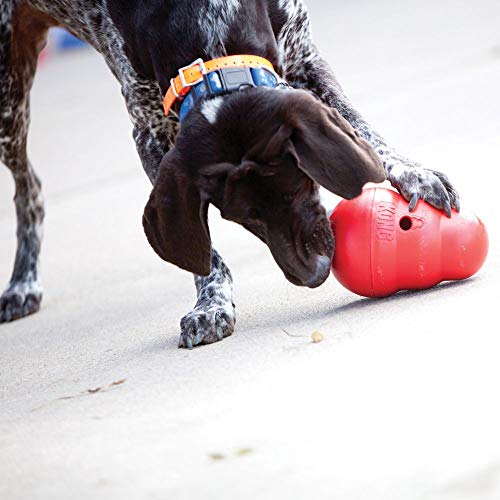 Best Treat Dispensing Toy for All Sizes
KONG Wobbler Interactive Treat Dispensing Toy
$20 AT AMAZON Credit: KONG
Available in both small and large sizing, this simple treat-dispensing toy will keep playful pups entertained. One reviewer said their two dogs "spend ages with them instead of trashing through the house whilst play fighting." It's ideal for average chewers of all breed sizes and is easy to fill with multiple sizes of treats.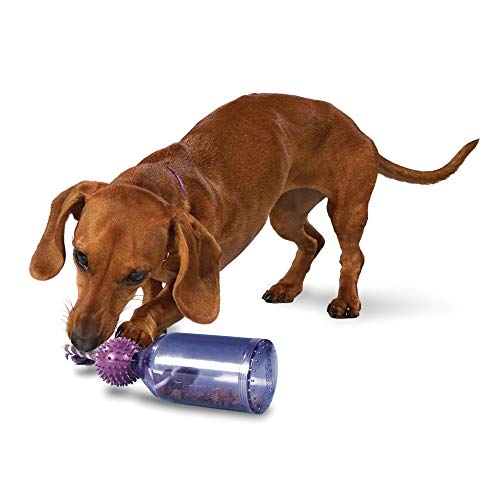 Best for Meal Pacing
PetSafe Tug-A-Jug Meal-Dispensing Toy
$11 AT AMAZON$12 AT TRACTOR SUPPLY CO$12 AT PETCO Credit: PetSafe
Looking to slow down your pup's feeding time? This interactive dog toy is perfect for overly eager eaters. Made with textured natural material that cleans teeth and gums and durable non-toxic material for prolonged use, you'll be able to provide multi-sensory stimulation while keeping your 10-40 pound pup busy for as long as you need.
"I got it to slow my already large puppy, down when he eats. It's great but make [sure] you're cleaning the inside regularly. Plastic is also sturdy. When my puppy gets annoyed with it he chews on the plastic and it's held up well," one review read.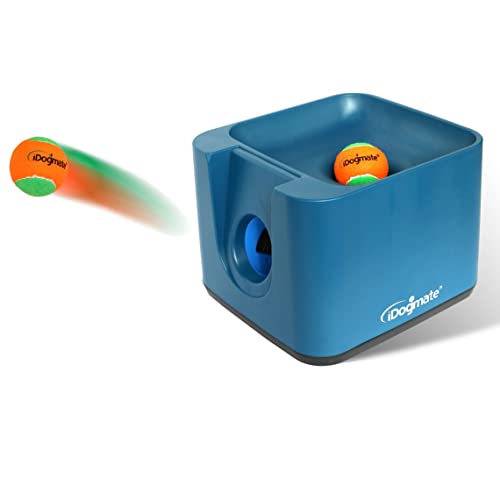 Best Ball Launcher for Indoor and Outdoor Use
Automatic Dog Ball Launcher
Now 11% Off
$200 AT AMAZON Credit: IDOGMATE
Mid-size and larger breeds will love this automatic dog ball launcher and the best part is, it can be used both indoors or outdoors. It's operated by remote control and has multiple speed options that suit your dog's needs.
SHOP French Bulldog Inspired Products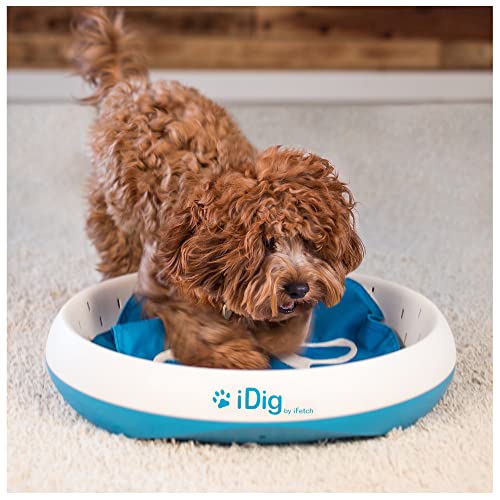 Best Digging Toy
iFetch Digging Dog Toy
SHOP AT AMAZON Credit: iFetch
This interactive treat mat will help satisfy your dog's natural inclination to dig. Equipped with loads of pockets to fill with treats or toys, it's guaranteed to give them a good time. "My two Dalmatians love this toy. They are large enough to throw it around a bit but so far it seems to be holding up. The mats can be removed for cleaning and to rearrange. Really happy with this purchase!" a reviewer wrote.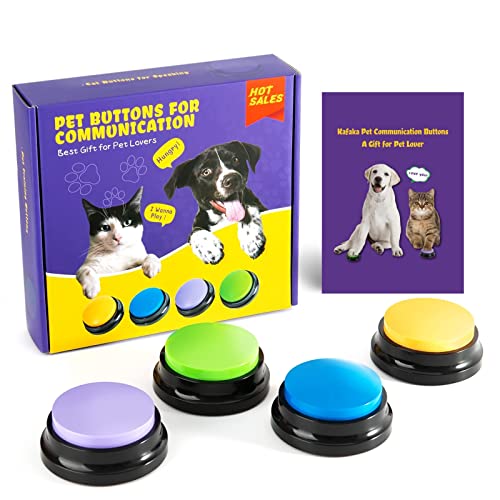 Best Recordable Toy
Recordable Dog Buttons
$19 AT AMAZON Credit: Kafaka
Though it's meant for your pooch, these recordable dog buttons may become one for you, too. Available in both a 4- and 8-pack, each button allows you to record a short command (such as "Feed me" or "Let's play!" As your pet begins "talking" to you by pressing the buttons to express their needs, you'll create a deeper bond with your pet. They're durable for all dog sizes and breeds and according to a few Amazon reviewers, dogs will get the hang of them very quickly. "I got these to teach my dog basic button use. So far we are only using one of them for "outside" and they are very easy to use. Too easy sometimes, she has mastered the button and requests to go outside right after coming in!"
What to look for when shopping for interactive dog toys
✔️ Size: Stay away from toys that are inappropriate for your dog's size, advises Coffiel. "So, for example, if your dog is an extra large breed, don't get a toy that's too small for them because it could potentially get lodged in their throat."
✔️ Safety: Although squeaky toys are a favorite of many dogs, you'll want to be sure to monitor your fur friend when they're playing with one. Dogs are inquisitive and will probably be on the hunt for the noise-maker to destroy it. As a result, they could ingest the squeaker if left unsupervised.
✔️ Activity Level: If your dog prefers to lounge and isn't filled with energy, getting them a toy that requires a heightened amount of movement may not be for them. As Coffiel noted previously, knowing your dog will save you a lot of time and money when looking for the perfect interactive dog toy.
SHOP French Bulldog Inspired Products
FAQ

My dog has sensitive gums. What kind of toys should I get? Plush or soft chew toys will be gentler on sensitive gums.
How can I choose the right toy for my dog? Every pup is different so it's important to know your pup's preferences and play patterns to determine this. Are they active chewers? Do they need comfort and security? Do they like to play fetch? Take these things into consideration and purchase accordingly.
Can I use the same toy for all of my dogs? In most cases, letting your dogs use the same toy poses no problem. If they are of different sizes and breeds, however, you need to make sure that you are giving each separate toys that are individually appropriate.